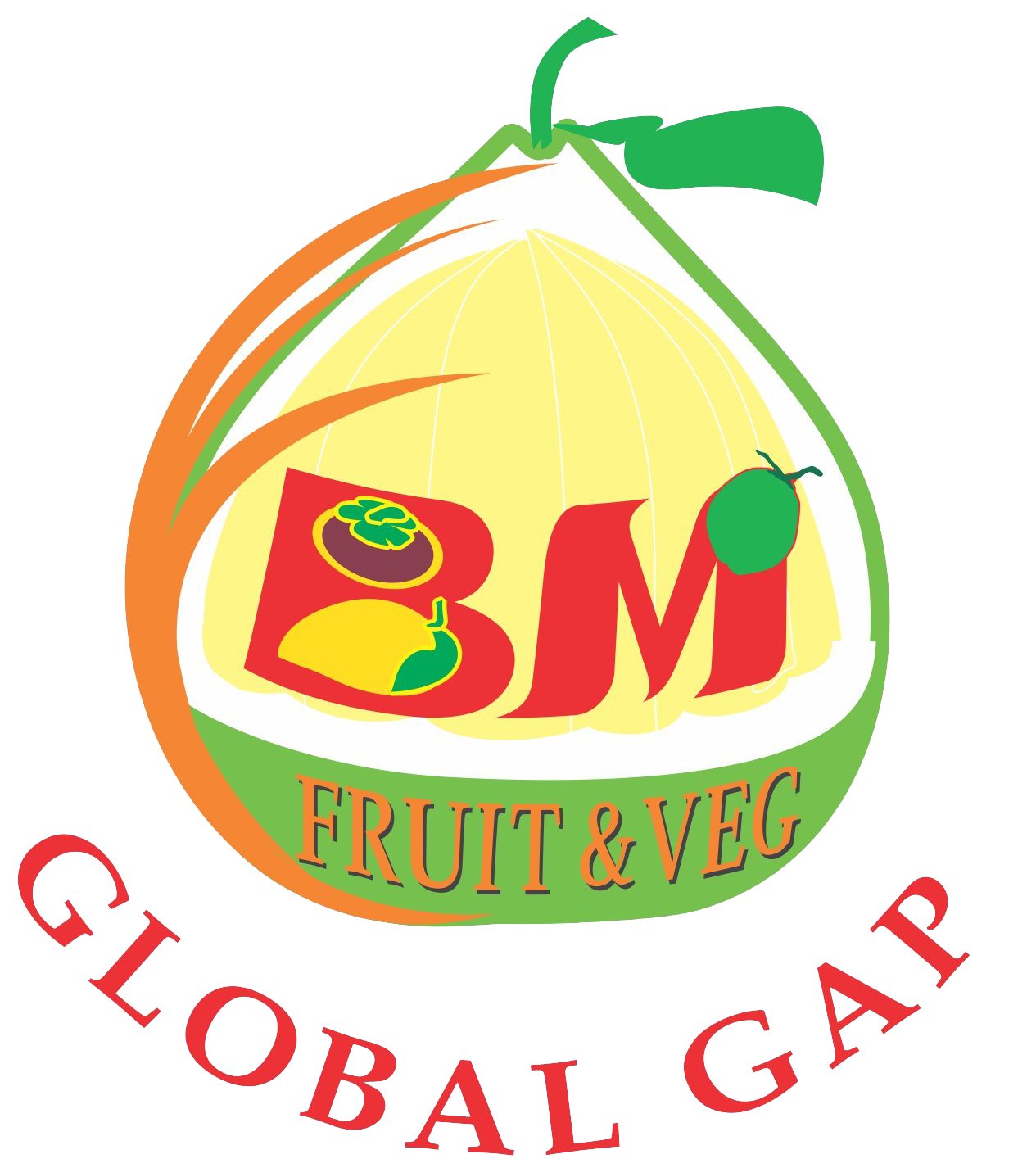 CÔNG TY CỔ PHẦN RAU QUẢ BÌNH MINH
Địa chỉ: 1226 tổ 10, ấp Mỹ Lợi, xã Mỹ Hòa, Thị Xã Bình Minh, tỉnh Vĩnh Long.
Điện thoại: 02703.765.559  Fax: 02703.765.558
With many years of experience in production and business in the fruit and vegetable industry, specializing in supplying wholesalers to wholesale markets and shops, supermarkets nationwide… and for importers/exporters, BINH MINH FRUIT&VEGETABLES CORPORATION is one of the  typical companies of My Hoa Commune, Binh Minh Town, Vinh Long city. With the criterion of bringing "Fresh and Delicious-from Farms to Homes" vegetable and fruit specialties, carefully selected from the right areas specializing in special crops for each fresh fruit and vegetable product and packed at Company's factory, are applied according to EU standards. and Food Hygiene and Safety (FHS), cold storage system according to ISO, HCCAP standards along with USA standard irradiation system. We specialize in the products of My Hoa Special Seedless 5 Roi Pomelo (Honey pomelo, sweet pomelo), Green Skin pomelo in Vinh Long, Ben Tre, Tien Giang, Japan Sweet Potatoes (Japan sweet potato Purple, Pumpkin, Milk White) Binh Tan, Thai Jackfruit, Seedless Lemon. , Orange Sanh, Rambutan, Mangosteen, Mango (Cat Chu, Hoa Loc)... of the southwestern provinces supply to consumers across the country and beyond,
we specialize in providing Fruits and Vegetables to customers. Exports to Europe, Asia, Middle East, Canada.
Especially with team in many years of experience who have worked in the field of fruit  and vegetable, modern machinery and professional working style, we look forward to cooperating with many partners all over the country. for sustainable development.
Fresh fruit specialties in the Mekong Delta are carefully selected from farms and carefully packed, shipped to customers throughout the country and countries around the world.
-Partners/Distributors:
Domestic:
-The supermarkets chain as:
COOPMART, AUCHAN GROUP, CENTRAL GROUP, BIG C, METRO, LOTTE MART, US MART, VINGROUP, VINMART..
- food stores chains.
- wholesale markets Hoc Mon, Binh Dien, Thu Duc Ho Chi Minh, Da Nang, Hue, Hanoi, Lao Cai, Hai Phong.
- Restaurant Hotel.
- Business.
- Importers, exporters.
- The world: provide products for partners wishing to export, import, investment cooperation projects in Asia, EU, Middle East.
- Cooperate in providing products according to partner contracts.
 Carefully selected products.
 Packing according to export specifications or according to customer requirements.
 Packing cartons, plastic crates, wooden crates with pallets or without pallets.
 Loading and unloading professional loading and unloading team, forklift.
 Storing and preserving ISO, HACCP, X-ray irradiation USA.
 Specialized transportation of trucks, coolers, refrigerated containers.
 Quick to ensure fresh products to customers.
 Investment in production according to the annual plan.
Invest in farms
MANUFACTURE
Manufacture:
- Fruit products are produced by a team of enthusiastic young engineers who accompany farmers throughout the production and harvesting process according to GLOBAL G.A.P, VIET G.A.P, ORGANIC standards.
- Partnering with farmers for generations.
- Training and guiding farmers to produce clean production according to GLOBAL G.A.P, VIET GAP standards.
o Production process training.
o Record production log books.
o Support in the construction of infrastructure, warehouses, yards, preparation and storage of pesticides.
- The staff harvest products from the garden, in order to ensure good product quality, apply preliminary processing, packaging and preservation techniques.
- Vegetables and fruits: products are quality controlled from the stage of pure seed cultivation to each step of harvesting. Check fruit shape, ripeness, abnormalities, check pesticide residues, microorganisms...
- The production plan will be expected according to the needs of the customer every year on a yearly basis.
Harvest and packing:
- Products are thoroughly checked by a team of experts before being harvested in the morning at farms.
- Use specialized harvesting tools.
- Transport to company by truck, ship.
- Products are carefully selected, classified according to each customer's needs.
- Wash, dry, store cool.
- Carefully packed by modern machinery.
- Store cold storage according to ISO, HACCP, XRay standards.
- Factory packed according to food hygiene and safety standards, EU standards.
- Packaging is diversified: convenient according to each customer's requirements, cartons, wooden crates, foam crates, plastic crates.
Shipping & Distribution
- Specialized vehicles for cool cars, container trucks according to the correct temperature for each type of fruit.
- Products are loaded by a team of professional loading and unloading staff, forklifts. Fast shipping to wharfs, ports of Ho Chi Minh City, warehouses for customers throughout the country.
- Large distribution network throughout the country: through the system of stores of clean vegetables, clean agricultural products, wholesale markets of Hoc Mon, Binh Dien, Thu Duc, Ho Chi Minh, Da Nang, Hue, Hanoi, Lao Cai Hai Phong.